Body and Mind in Harmony
Sensei Desai's Programme
---
Tai Chi : Tai Chi Chuan is a Chinese form of exercise derived from Taoism, one of China's oldest belief systems developed in the 12th Century. The practice of Tai Chi Chuan is beneficial to health and it is also a subtle, sophisticated and scientific method of self-defense. Tai Chi means 'Supreme Ultimate'.
Chinese Silk Weaving Exercise (CSWE) : Awaken your Energy with CSWE. They are a series of exercises with movements that are soft, ballet like, yet strong. Every movement involves breathing. And puts you in contact with your internal energy.
Okinawan Shorin Ryu Karate : Unleash the tremendous power within you. In each one of you lies a power which is untapped. Dormant. Unleash it with Shorin-Ryu Karate. This old age art of Self Defense packs in unlimited potential for you. It not only provides for a fighting fit body, but also helps inculcate mental discipline. And helps you in warding off the most menacing of assailants.
---
About Sensei Sandeep Desai : Sensei Sandeep Desai is designated the Chief Instructor and Director of International T'ai chi Academy (India Division). He has learnt Chen Style Tai Chi under Dr. Bob Bacher at Munich, Germany. Dr. Bacher is the Founder and Director of International T'ai chi Academy. He has been practicing Tai Chi and Yoga for past 20 years.
Sensei Sandeep Desai is also 5th degree black belt in Okinawan Shorin Matsubayashi -Ryu karate , attained in Okinawa, Japan. He also masters the art of Chinese Silk Weaving Exercise.
Sensei Desai performing Slow Kick :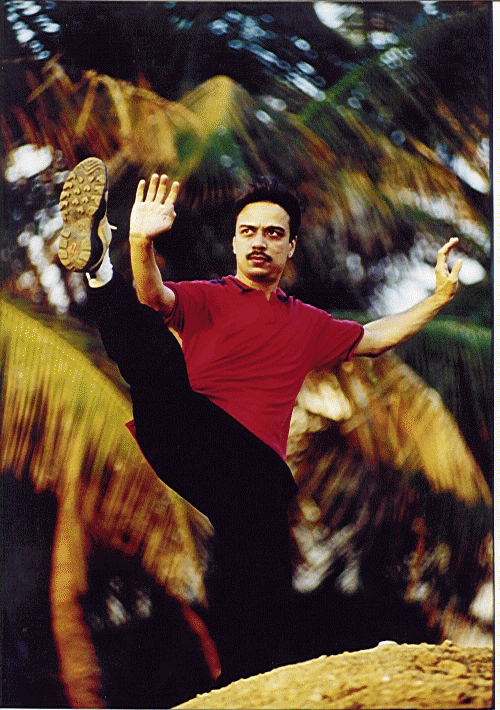 ---
Classes are held at :
Pure Energy Biokinetics, Walkeshwar, Mumbai.
8:00 am to 9:00 am Tuesdays and Thursdays.
Phone : 091 - 22 - 3692156.
Goklibai High School, Vile Parle (West), Mumbai.
7:30pm to 8:30pm Tuesdays and Thursdays.
Talwarkars, Soni House, Gulmohar Cross Road No. 1 JVPD Scheme, Mumbai.
8:00am to 9:00am Wednesdays and Fridays.
Phone : 091- 22 - 6253089
Sensei Desai Contact No :
Phone : 091 - 22 - 8365555
For clarifications write to :
taichiindia@hotmail.com
---
You are Visitor Number :
Site Developed and maintained by :
Wealthy Desai
wealthydesai@hotmail.com